Low maintenance garments are actually normal garments where some treatment has added few functional qualities like:
Odor free,

Crease/wrinkle free/resistant

Anti static

Water repellent

Oil/grease repellent

Dry dust repellent

Easy wash

Low detergent wash
For next 5 years, it is expected that all garments will be nano sealant coated by default as the world gets busier and looks for low maintenance garments
Nano Sealant are the new age sealants that impart these functional properties.
Nano silica, silver, titanium are known materials that permanently sit onto the substrate in the form of alkoxides repelling microbes, moisture resulting in these finishes.
Commercial use of Functional textiles:-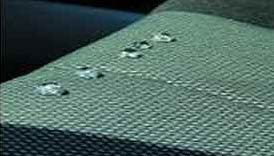 Dress designers , uniform sellers and users like police, army, school , dry cleaners , ironing companies, Leather garment mfg, retailers, adventure garment retailers, embroidery, jari silk retailers.
Treatment good for lifetime of garment and leather. Treatment cost Rs 60 per sq m inclusive of input.

Use method: spray or dip the garment in the nano sealant, sun dry, or under UV light or iron it.

OFFICIAL SUITS: treat suits with nano sealants and you can easily wash them in washing machine (in a nylon mesh bag). Hang dry and is ready to use within 30 min.

Treatments are dry cleaning resistant.

Look texture breathability of material is unaltered.

Excessive soiling of clothes, leather products is removed easily without a trace because of nano sealant.

Ideal dirt resistant, water, oil grease odor resistant for all textiles like wool, silk, synthetics, leather & cotton.

Nano sealants are completely harmless to skin. They have no alcohol and are water based and eco friendly.

Simply wash off contaminants.
Anti microbial, bacterial, viral, odor free finish possible for doctor ties as untreated ties are potential disease carriers from one patient to another.
Ranges of application:
Daily use garments are made water repellent and will remain dry for longer time. They will be 90 % easy to clean as dry dirt will not stick to garments. Result: no or low detergent use. If oil spills on the garment, most will roll down, if some remain, that can be washed with solvents and is ready to use. Coffee, tea, soups, ketchup spill dont affect the garments, as nothing will ever stick to the fiber anymore.

Shoes / children's shoes:
Shoes need to be looked after as they are punished the most. Especially when they get wet, dampness can get through the shoe to the socks, which is not comfortable and can cause a cold. This can be prevented with our nano sealant. Oiled shoes should not be treated with our sealant.

Ideal for textile retailers:
Marques, sunshades, convertible car roofs:
Through dampness, moss adheres on marquees, sunshades and convertible car roofs. Especially marquees and sunshades, which are not put away after use, can get wet in rain leading to stains and mould forming. For prevention use our 'Nano Textile & Leather Sealant.

Ideal for car dealers, sunshade and marquee manufacturers:
Uniforms:
Some uniforms are exposed to the weather, for example police uniforms. With our textile sealant, rain is simply repelled and cannot get through to the fibers.
Ideal for sporting goods retailers and associations
Ski / Snowboard clothing:
For winter sports, sealing textiles is of great advantage. Such clothing has to stand a lot of extreme conditions. The upper layer often gets wet, which affects the breathability. With our 'Nano Textile & Leather Sealant' water is repelled and as a result cannot get through the upper layer.

Costumes, suits and ties:
Spilt soup or wine can be annoying, as it is not always possible to clean immediately, leading to staining. Our sealant is a great prevention. Soup, fat etc cannot get through to the fibers anymore and can simply be shook off the clothes. Also suitable for silk.
Ideal for car dealers and automobile clubs:
Car-seats:
Car seats of every material can be treated with our sealant. Through sitting on the seats with wet/dirty clothes, lime scale and other contaminants develop on the seats. Seats treated with this sealant protect the fibers. As a result dirt cannot get through the surface into the fibers

Winter wear and carpets:
In dry winter, textile develops static charge that is fatal sometimes. Coated textiles and carpets dont develop this charge is safe.
To read more articles on Textile, Industry, Technical Textile, Dyes & Chemicals, Machinery, Fashion, Apparel, Technology, Retail, Leather, Footwear & Jewellery, Software and General please visit http://articles.fibre2fashion.com

To promote your company, product and services via promotional article, follow this link: http://www.fibre2fashion.com/services/article-writing-service/content-promotion-services.asp